Metal Stud is the industry's original lightweight non-load bearing drywall partition system, providing cost-effective, multi-purpose solutions suitable for all types of buildings. It has a wide range of performances achievable through a combination of interchangeable Gyproc plasterboards, Gypframe metal, Thistle finish plasters and Saint-Gobain Isover insulation.
Optimised Acoustic Performance
Optimised acoustic performance for a given footprint through the use of Gypframe AcouStuds.
Quick to install compared to masonry or timber frame alternatives and allows transformation of building layouts with minimal disruption. Non-hygroscopic Gypframe metal framework will not twist, warp or rot. Easy accommodation of services within the stud cavity due to pre-cut service holes within the Gypframe metal studs.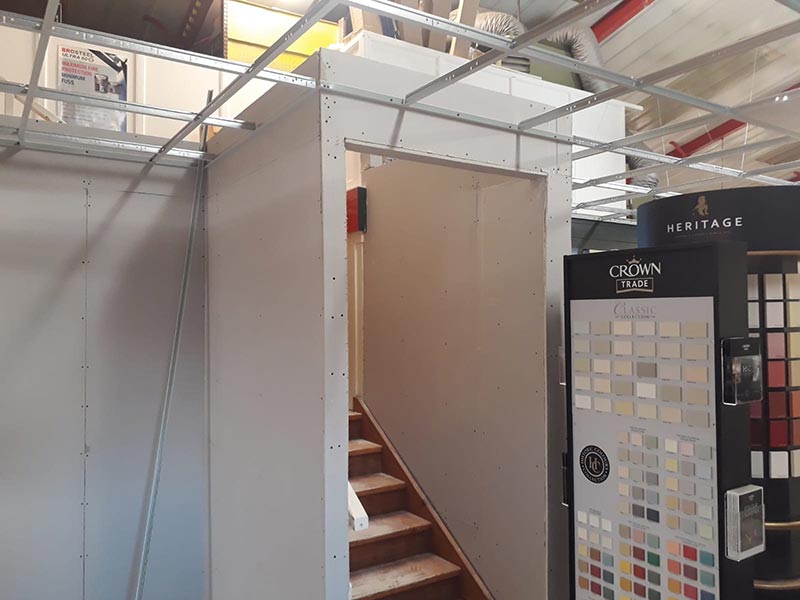 Dry Lining
Dry lining (sometimes referred to as drywalling) is a system for cladding the internal faces of buildings, such as walls and ceilings.
Smooth Surface
Plasterboard is attached to the internal faces, creating a smooth surface that finishes such as paint can be applied to directly; a 'wet' plaster finish is not required.
Alternative to Traditional Plaster
Dry lining requires less technical expertise than traditional plastering and required little water, hence the term 'dry' lining.